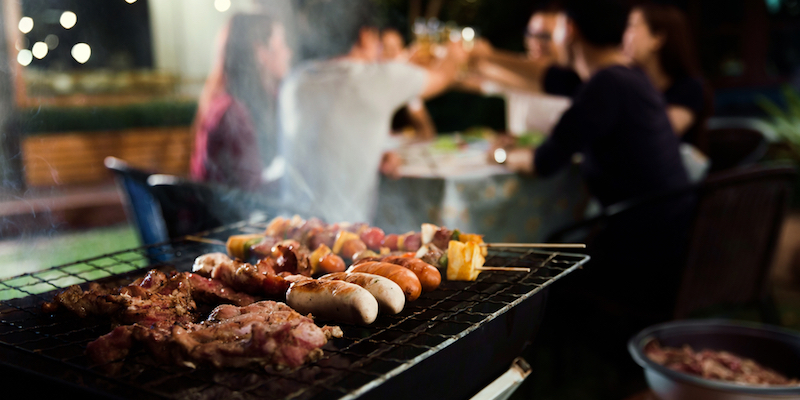 The Quintessential Aussie BBQ
Barbecuing is almost synonymous with the Great Outdoors here in Australia. Picnic at the beach? Aussie BBQ. Gathering at the local park? Aussie BBQ. Backyard party? Aussie BBQ. In this post, we talk about what it means to throw the quintessential Aussie BBQ.
Sausages
No BBQ is complete without some snags on the Barbie. Look at charity BBQ events also known as a Sausage Sizzle, they are quite common across the country. This involves a group of people cooking up some delicious snags and serving it in a piece of white bread and grilled onions. Sausages are a staple in any Aussie BBQ.
Steak
"It comes down to personal taste" according to Daniel Hughes, head chef at Sydney's Manta Restaurant & Bar. He goes on to explain, "the basic rule is if you want a steak with more flavour, go for a scotch fillet. If it's tenderness you're after then an eye fillet is for you Or if you want a cut that's both flavoursome and tender, then a T-bone is for you". Aussies generally prefer their steaks cooked medium. To prepare a standard steak of 250mg at medium, cook for about four minutes on either side making sure to turn it over only once so that the meat is cooked evenly.
Prawns
Caught fresh from the sea, lightly salted and thrown whole into a sharing bowl, prawns are the seafood of choice to appease the great Australian palate. For many families, prawns are a staple feature of a festive feast. Served fresh in their shells, they provide a delicious starter (that will keep your fingers busy) and are often accompanied by homemade seafood sauces (tomato sauce and mayo mixed together).
Native Aussie Herbs and Spices
No matter your choice of meats, whether it be a steak or grilled chicken thighs, or perhaps a mixture of both, you can truly make it an aussie BBQ by using native Aussie herbs and spices:
Mountain pepper – Add it to meat, eggs and vegetables at the beginning and end of the cooking cycle to add some zing to your food.

Forest Anise – Add to white meat, seafood, desserts, feta and cream cheese for an aniseed and lemon myrtle mix finish.

Lemon myrtle – Use with fish and chicken dishes for a lemon finish.

Pepperberries – A great pepper substitute, with a unique Aussie flavour.

Yakajirri and Akudjura – Bush tomatoes can be used in sauces and marinades.

Wattleseed – A nutty/chocolatey/coffee flavour great for desserts and baked foods.
Sides
Once you're ready to place meat on the place, it's all about the sides. Platters with mushrooms, corn on the cob, creamed garlic spinach, grilled haloumi, and some potatoes. In summer, top it off with a garden salad of iceberg lettuce and a light vinaigrette and you have the quintessential Aussie BBQ.
Drinks
Beer, white wine, fruit punch spiked with your favourite clear spirit and non-alcoholic options such as juice and fizzy drinks are all very popular choices. It's going to be hot this summer, so no matter what you and your guests drink, make sure it stays cold. Try to keep them in the shade and whatever you do, don't run out of ice!
---