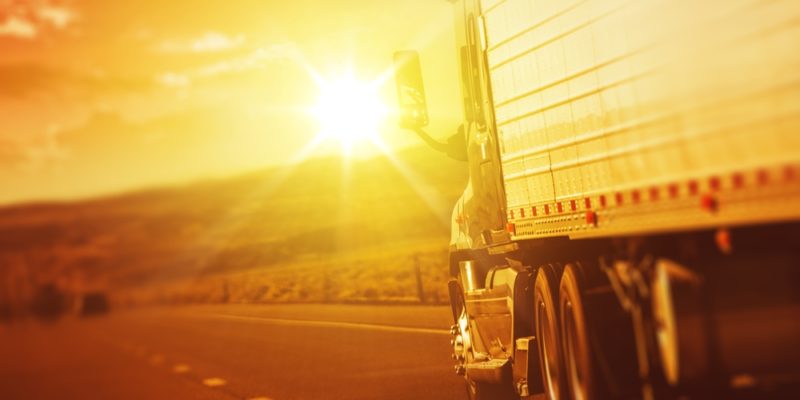 Refrigerated Transport During Summer in Australia (5 Important Considerations)
At  Cannon Logistics, we pride our team for providing our clients with exactly what they want – their produce delivered on time and in 'as sent' condition even during the hottest Australian summer!
Here, we explore the 5 things that ensure hight quality refrigerated transport throughout the summer.
1. Temperature & Humidity
In terms of road transportation in Australia, the geographic and climatic extremes across the country impose particular pressures on mobile transport equipment to perform.
Trucks provide nearly all domestic freight transport and are the only mode available in many country areas (Estrada-Flores & Tanner, 2006). You need to be aware of external temperature, as it may mean you have to change the internal temperature. This helps keep produce safe especially during transient periods in which the product may be under non-controlled temperature conditions.
For chilled products, the air temperature should remain between 0 °C and 4 °C, to ensure that the product is never warmer than 5 °C and Frozen products should be handled never warmer than –18 °C (Estrada-Flores & Tanner, 2006). 
In Australia's hot climate it's not only food that needs to be transported in refrigerated transport vehicles. There are all sorts of products that require refrigerated transportation to keep them in top condition.
No matter what or where goods are heading, they should arrive in exactly the condition they were sent (as sent condition). Take candles, for instance, the only way to ensure they arrive in top condition, ready to sell, no matter the outside temperature, is to use refrigerated transport (Unknown writer, 2016).
2. Time
Time, of course, plays a huge role in the delivery of foods and depends on the freshness requirements. This is especially important during the Australian summer.
The Food Standards Australia and New Zealand state that "using the 2-hour / 4-hour rule is a good way to keep food that's taken out of the fridge safe".
This is an important rule that food transport companies need to understand to avoid produce becoming contaminated. "The rule has been scientifically checked and is based on how quickly microorganisms grow in food at temperatures between 5°C and 60°C." (Food Standards Australia and New Zealand).
3. Monitoring System
Imagine life without ice cream, fresh fruit, meat or ice-cold beer (Staff Writer, 2012)…
Things would be very different!
But we can safely enjoy these foods because of reliable temperature monitoring systems. Throughout refrigerated transport, both temperature & humidity are measured and kept constant; ensuring the safety of temperature sensitive freight.
4. Correct Journey Planning
Proper journey planning not only gives you an idea of the varying temperatures and weather conditions you'll be passing through, but it allows you to plan the most economical route.
5. Fuel Efficiency
No matter how good a refrigerated vehicle looks, if it's not fuel-efficient, it will add additional operating costs. A modern, fuel-efficient truck is essential when transporting freight economically.
References:
Estrada-Flores & Tanner, (2006), Temperature Regulations During the Transport of Perishables in Australia', Research Gate, http://dx.doi.org/10.1051/IUFoST:20060704.
Staff Writer (2012) No Summer Without Cooltrax, Trailer Mag, Available at: https://www.trailermag.com.au/no-summer-without-cooltrax/
Unknown Writer (2016) Refrigerated transport for non-food products, Available at: http://estacazo.com/2016/02/09/refrigerated-transport-for-non-food-aoducts/
---