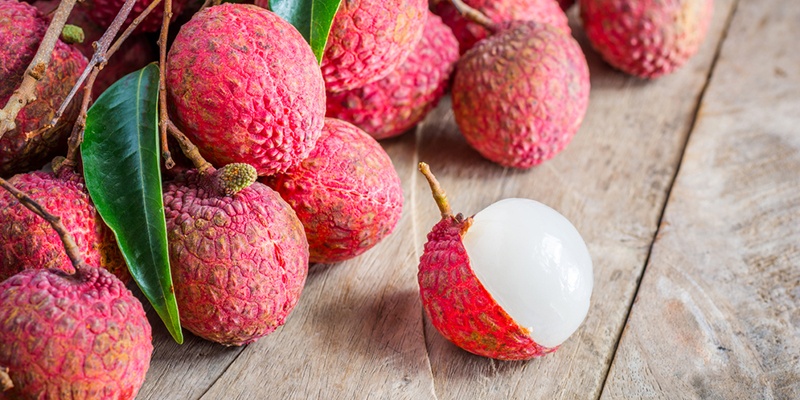 Spotlight on Lychees
As a Brisbane-based logistics and road freight company with specialised and refrigerated transport and warehouses, we see all kinds of produce that come from all of over Queensland and North New South Wales, one of which is Lychees. In this post, we shine a spotlight on Lychees and explore why they are often called "the king of fruits".
What are they?
Lychees are a subtropical fruit and are often oval to round in shape and about the size of a walnut. It's thin, red bumpy skin is usually easy to peel to reveal a white, juicy, translucent ball of firm jelly-like flesh that surround a smooth brown seed. The flesh is sweet with a texture similar to that of a grape. They're a type of berry and are produced on tropical evergreen trees. The trees feature shiny, leathery leaves and long sprays of flowers which after a few months become bunches of fruit. Once ripe the bunches of fruit are harvested by hand.
Aussie Availability
Australia has the largest lychee production season in the world, producing fruit from late October to late March – and is a summer favourite! Lychee grown regions are particularly found in tropical Far North Queensland, Central Queensland, South East Queensland and Northern New South Wales.
Healthy Snapshot
In Thai culture, they are dubbed one of the kings of fruit among durian and pomelo, as they are not only very tasty with a sweet flavor and fragrant smell, but also have numerous health benefits. Here are some, to name a few:
Seven lychees (one serve) contain as much vitamin C as a small orange and provide 100% of the recommended daily intake of vitamin C.

Lychees are also ranked second behind strawberries in antioxidant levels.

They have fewer than 65 calories per 100g, comparable to that in the table grapes. It has no saturated fats or cholesterol.

Lychees are also medium GI, with a GI level of 57. Their slow releasing energy makes them a great snack to keep you going.

Lychee is considered Diuretic and Digestive because of the significant amount of dietary fibre in its content.  

 
Selection and Storage Tips
Most lychee varieties are ripe when the skin turns pink or red. Once picked, they do not continue to ripen.

Choose fruit that is firm and springy, with lush red or pink skin.

You can store lychees in plastic packaging, a plastic bag or plastic containers for five to seven days and may be kept at room temperature for two or three days.
---