Supermarket Safety and Operational Tips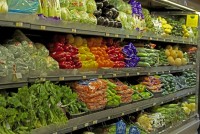 Throughout Australia, supermarkets cater to millions of Australians as a primary go-to destination for all their key produce needs. From fruits and vegetables to milk and confectioneries, as well as home and personal hygiene products, supermarkets serve an important service.
With this important service (and product supply) comes a coupled importance in ensuring that safety is maintained, be it product quality or keeping those within your store safe. In today's blog, we list some key safety and operational factors to take into account with your supermarket.
Make sure everything that's being sold can be sold
You'll know that the products in your store are those you're looking to sell, but you still need to account for things such as 'use by' and/or 'best before' dates. While 'use by' and 'best before' pertain to different rules for consumers, supermarkets (and any other business selling items with expiration dates, for that matter) must sell both types of products before that date.
Also, remain aware of product recalls. As soon as a certain food product is required to be recalled, you need to do so ASAP. Including a note as to the reasons for the recall and any potential health hazards the product was causing to warrant such a recall is important, too. One such example is the February incident involving blueberries, from the brand Nanna's, which were linked to cases of individuals contracting hepatitis A.
QUICK NOTE FOR CONSUMERS: In case you don't know the difference, 'use by' denotes a product that must be consumed by the 'use by' date, because consuming the product after this date could be detrimental to your health. 'Best before' denotes a product that should ideally be consumed prior to the printed date. However, if you do consume the food past the 'best before' date, it shouldn't cause health issues – it just won't be of the best quality.
Keeping stock up
When we talk about stock, we mean the physical stock of foods, beverages, cleaning products, and the wealth of other miscellaneous items that can be found at your typical supermarket. If your supermarket is newly established, it may take a little while before you get a sense of the typical foot traffic and sales you receive on average. But regardless of where you are in the life of your supermarket, constant rechecks of your stock and noting what's starting to run low will help you plan accordingly and order what you need at the time.
Keep it clean
As with any commercial area, you'll want to make sure your supermarket is clean. Spills should be cleaned up ASAP and the necessary warning sign placed up (e.g. "Caution: Floor Slippery When Wet"). General cleanliness needs to be maintained, as well. Removing dust and grit from floors, shelving, and so on.
Also make sure to have your property inspected and treated for any potential pest problems. Ideally have any pest treatment/checks carried outside of operational hours and make sure you have a response plan in place if a major, unpredictable pest problem occurs.
Reliable freight provider
Last but not least, given that having products on your shelves is what you need to succeed, you'll want to invest in a reliable logistics/freight service provider. Whoever you choose, take the time out to assess their history and find out how current and previous clients rate them. In the end, the logistics company will be working for you, so you'll want to ensure you're investing in the right provider.
---