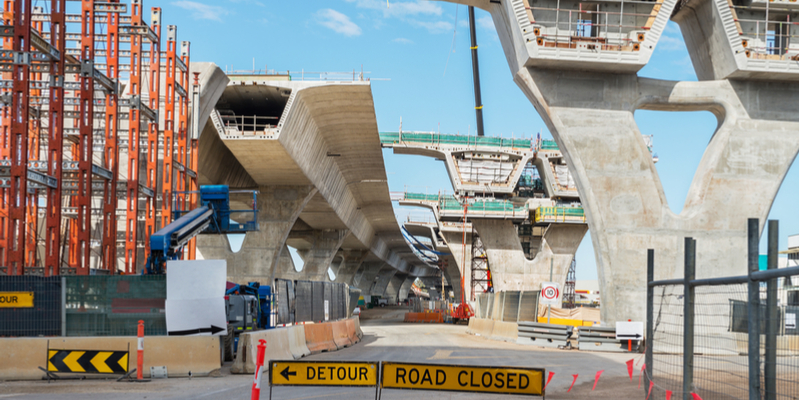 Key Transport and Roads Projects Happening in Queensland
Queensland residents can expect big road projects in the next four years as the Queensland government plans to invest $45 billion in infrastructure funding. According to Queensland Premier Annastacia Palaszczuk, this infrastructure budget will accelerate the local economy.
The Queensland government's main aim is to build infrastructures in cities and regions to drive economy and support 38,000 new Queensland jobs every year. As Queensland shifts to a more dynamic and productive economy, infrastructures are vital to maximise opportunities and provide sustainable benefits in the future.
In addition, public infrastructure drives change, investments and makes the community a better place to live in. Queensland's 2018 to 2019 infrastructure budget is the biggest since 2011.
In this post, we take a look at some of the main transport and road projects in Queensland.

Top Priority Road Investments in Queensland
There are many new major development projects underway across Queensland, and they're expected to be done by 2022.
Bruce Highway Upgrade Program
A 10-year program and Queensland's largest road infrastructure program with a budget of $8.5 billion, with joint funding from the Australian and Queensland governments. The aim is to improve the Bruce Highway in between Brisbane and Cairns. This project will also ensure safety and flood resistance.
Pacific Motorway M1 Upgrade Program
Pacific Motorway is a busy highway in Australia and a national freight route. The widening and upgrade of the Pacific Motorway is done in strategic priority stages as funding comes in and depending on traffic volumes.
The Warrego Highway stretches 796 kilometres and is Queensland's main east-west route for freight from Charleville to Ipswich Motorway heading to Brisbane. The Warrego Highway Upgrade Program (WHUP) benefits Queensland agriculture, resources and tourism. It is composed of 15 projects with a budget of $635 million funded by both the Australian and Queensland governments.
Accelerated Works Program for Northern Queensland
The Department of Transport and Main Roads has sped up infrastructure projects in northern Queensland to create more jobs in the area. The accelerated program amounts to $144.6 million and will generate an estimate of 401 jobs. It includes upgrades in overtaking lanes, intersection improvements, road widening, construction of decoupling facilities and more. The program started in late 2015 and most projects are not complete with the remainder expect to be finished in early to mid-2019.
Cross River Rail runs 10.2 kilometres connecting Dutton Park in the south and Bowen Hills in the north. It also has a 5.9 kilometre tunnel under the Brisbane River and CBD. Upgrading the Cross River Rail is vital because it has great strategic importance to South East Queensland's Rail Horizon. The project will improve congestion and accessibility into Brisbane CBD, making it Queensland's top priority infrastructure.

Other Significant Infrastructure Projects
The upgrade of 90 kilometres of local dirt roads is being considered by the Queensland government as of late. Funding is estimated to be at $100 million, with the aim of improving road access to Adani's Carmichael mine all year round. The Queensland Government is also placing much importance on providing local governments in Northern Queensland more funding through the Transport Infrastructure Development Scheme (TIDS) to develop more local infrastructure.

South-east Queensland Infrastructure Projects
While six of south-east Queensland's highest priority projects have already been funded by the federal government, rail, bus and road infrastructures are still waiting for financing.
The Council of Mayors submitted the federal budget in December 2017 seeking for funding from the Commonwealth. The four unfunded critical projects include the Brisbane Valley Highway Upgrade located between Blacksoil and Blackbutt, the Manly to Cleveland Rail Duplication, the Eastern Busway to Capalaba and Mount Lindesay Highway.
To strengthen not just Queensland, but other cities and regions in Australia, the government has devised a 10-year infrastructure plan to build more transportation upgrades in the years to come.
---