6 Lanes for the Bruce Highway on the Sunshine Coast?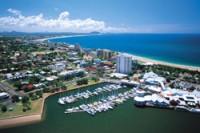 With previous news of the 2013/14 budget seeing investment going into improving the Bruce Highway here in Queensland, the question that now exists is how this money – $4.1 billion – will be utilised.
It's a good assumption that the devoted $4.1 billion for Bruce Highway improvements will find its way into addressing key issues and danger zones and amending them with improved structure.
As it turns out, however, the Sunshine Coast Business Council (SCBC) would like to see some of this money being invested in improving the section of the Highway between the Sunshine Coast and Caboolture.
In a report by the Sunshine Coast Daily, SCBC's chairwoman Sandy Zubrinich noted she believes it's time that the Coast had some greater funding placed into the area to help support its local economy. She noted that expanding the Bruce Highway to 6 lanes between Caboolture and the Coast would help make transit easier for visitors, giving them more incentive to visit.
While she noted that other infrastructure upgrades are important, such as the airport, she believes that the Bruce Highway upgrade is the most imperative.
"If we don't get an airport upgrade and the Bruce Hwy links are done, then we are only an hour away from an international airport so we can attract people to the Sunshine Coast with a speedy, comfortable, accessible and convenient link to the airport," Ms Zubrinich said.
Due to the lack of additional lanes, it means that the transit time from Brisbane to the Sunshine Coast can take far longer than it should. "Brisbane visitors know the perils of the highway and sometimes they don't see it as worth their time," Ms Zubrinich said. "People won't drag three or four kids for a three or four-hour drive in bumper-to-bumper traffic."
This lengthy time spent in transit means that the Sunshine Coast loses a lot of valuable commerce from Brisbanites. Particularly, less people feel compelled to head up the Coast during long weekends simply because the transit still takes far too long due to congestion and poor overall infrastructure on the Bruce Highway.
The rest of the SCBC agrees with Ms Zubrinich's views, and the Council has been petitioning for these upgrades since April. But with how many problem areas need addressing with the Bruce Highway, it's not known if these desired upgrades will be made in the end.
What do you think? Do you believe expanding the Bruce Highway to 6 lanes between Caboolture and the Sunshine Coast would be a worth investment? Would it give you more incentive to visit? Share your thoughts in the comments below.
* Image source: Charter Boats Australia
---