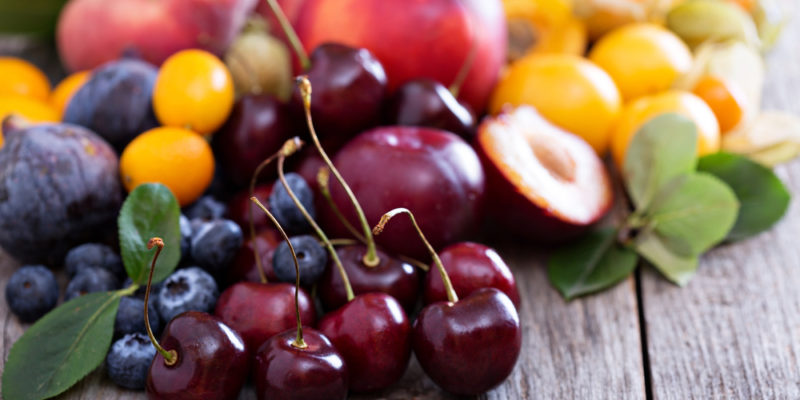 December Produce Spotlight: Stone Fruits
Whether it's cherries, peaches or plums, there is a stone fruit for every one.
The changing of the seasons and warming weather means that stone fruits are now in season. If you haven't seen them on your supermarket shelf quite yet, you're bound to in the coming weeks.
Today, we are going to go through our favourite stone fruits available in Australia over Summer and some interesting facts about them.
We will also recommend some tasty recipes to make the most of the most beautiful time of year!
Peaches
Peaches are incredibly popular throughout the world which even won them the title of a very popular song all about…you guessed it, peaches!
And while we are talking about popular culture references, has anyone ever told you that 'you're a real peach'? Sources online suggest that this popular saying comes from an old tradition of giving a peach to a friend you liked best! Others speculate that the saying's original meaning referred to the 'peaches and cream' complexion of fair skinned women.
Peaches are also packed with vitamins and nutrients! One medium sized peach has less than 60 calories, making it a very sensible choice for a healthy snack. You will also find 17% of your recommended daily intake (RDI) of Vitamin C and 10% RDI of Vitamin A.
If you're wondering how you can incorporate this super stone fruit into your Christmas lunch, check out this recipe we found for Peach and Nectarine Trifle.
Cherries
Cherries have been a popular fruit for quite some time throughout many parts of the world including America, England and Rome and remains a popular scent in many cosmetics and fragrances.
Similar to peaches, cherries have been shrouded in iconography over the years and given meaning beyond its delicious taste. Ancient Greek Mythology believed that cherries held elixirs that gave Gods their immortal powers. Similarly, the religion of Buddhism believes that cherries stand for fertility and femininity.
Don't be fooled by its sweet smell though. Cherries are actually rich with nutrients which are beneficial for your health, featuring plenty of antioxidants, vitamins and minerals.
One cup of this healthy treat equates to only 97 calories.
The health benefits of this summer dessert don't stop there though. One cup of cherry gives you 18% of your Vitamin C RDI and 10% of your potassium RDI.
If you'd like to feature this summer favourite into your 25th of December offering, there are many different recipes which make the most of its delicious flavour. We found this Sweet Almond Cherry Tart recipe which looks absolutely divine.
Need To Transport Your Stone Fruit?
If you are a farmer, packager or grocery store, you'll need a transport company to get your stone fruits to where they need to go and deliver them in the condition they were sent.
At Cannon, we have 25 years of experience in specialised refrigerated transport and warehousing.
Our modern fleet of prime movers and trailers are enhanced by the latest in temperature humidity control technology. Our expert drivers can deliver your products with confidence.
Talk to our friendly team about all your refrigerated transport needs today!
---