Driverless cars to be trialled in Australia this November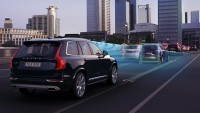 Go back 10 years and the idea of roads filled with driver-free cars would have likely seemed the subject of pipedream sci-fi.
But a lot can change in a decade, and the driverless car movement is gaining traction and recognition quickly around the world. For Australia, the first big sign of the advent of fully automated vehicles will occur this November, with Volvo set to trial a specifically programmed driverless version of its soon-to-be released XC90 SUV on South Australian roads.
Trial will take place over two days, 7 November and 8 November, on the Southern Expressway in Adelaide. During the trial, a number of Volvo's specially programmed SUVs will conduct a number of manoeuvres, including the following:
Overtaking
Changing lanes
Emergency braking
Using on and off ramps
Overall tests regarding proper indication
The specialised programming in the SUVs will take advantage of adaptive cruise control, as well as pilot assist functions. These functions will (or should, in theory) keep the car correctly in between lanes and prevent them running into other cars that are in front.
While the reality of driverless cars may still feel like a far-off reality, these initial tests should help lay the groundwork for addressing one of most substantial obstacles preventing such vehicles from being on the road – legislation. To reflect the introduction of fully-autonomous vehicles, government on a state and federal level will need to sign off on new legislation that would make these vehicles legal.
If successful, Volvo's initial tests would provide the government with tangible evidence – and greater confidence – to consider legislative changes. Even if changes are not immediate, a progressive series of revisions could allow driverless vehicles to slowly but surely populate Australian roads. Projections show driverless cars should be readily available during the 2020s, and some are projected to be manufactured within the next couple of years.
The key purpose of driverless cars, contrary to some people's assumptions, is not for the sake of convenience or to require less of the driver. Rather, the mission is to end road fatalities that result from driver error. While certain on-road risks may not be completely avoidable, an automated vehicle should be able to perceive and react to risks far more efficiently than human drivers.
In addition to this, driverless vehicles mean that those with impairments or disabilities that make them ineligible to drive will be able to travel with greater ease. Google once illustrated the value of its driverless vehicle by having a vision-impaired man sit in the 'driver's' seat.
While driverless vehicles are designed to handle every facet of travel from start to finish, current legislation (and design, as well) still requires someone to sit in the driver's seat in the event of a rare operational failure. However, in years to come as the technology improves, it's not hard to imagine this requirement could disappear, too.
---