Great Australian Destinations in Winter
When the winter months come along, we can too often think of travelling overseas to some tropical paradise for perpetual sun and endless mojitos.
But while these things may very well be enticing, it's important not to forget about the fact that when winter sets in, there are some truly unique experiences to be had in our very own country. Sure, the day's may be crisper and the nights could be sending a few chills through your bones, but winter in Australia is something to celebrate, not lament.
In today's blog, we take a look at some fun experiences that can be had by taking a holiday in Australia.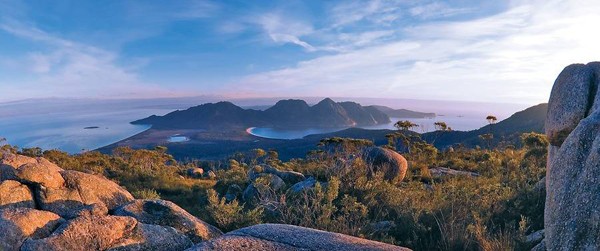 Tasmania
Out of all the destinations in Australia, the entire state of Tasmania is worth noting, and not just because it's a small enough state that you can pack more into you holiday.
Too often, Tasmania ends up being forgotten when compared to the rest of Australia, and it's a genuine shame because Tasmania has so much that's worth visiting it for. Whether you want to visit some of Australia's most well-regarded wine regions, explore the city of Hobart or shred up the ski fields or walk along snow covered mountain (the beautiful Cradle Mountain), Tasmania has got you covered.
But beyond the usual tourist attractions, there is a genuinely unique feel that permeates Australia's southernmost state. With rolling green fields and fog that hugs the higher roads well into midday, Tasmania feels like a type of Australia that simply isn't achievable on the mainland. It's a wonderful state and every bit worth visiting.
Western Australian and the wildflowers
While the large majority of Australians may live on the east coast of Australia, that doesn't mean you should be afraid to venture west. While you could certainly spend some time in Western Australia's capital city, it's also worth your time to venture to areas such as Ningaloo Reef and Kalbarri National Park. Around these areas, and throughout the entire mammoth state of Western Australia, more than 12,000 wildflowers come into bloom, turning the scenery into a vibrant palette of colour. It's certainly a shift away from grey days and barren landscapes.
The Simpson Desert, South Australia
Of course, if the snow and rolling green hills of Tasmania or the blooming wildflowers of WA don't take your fancy, you could always head to South Australia and try your luck in the Simpson Desert. In reality, it's not as challenging as it may seem, and taking a four-wheel drive across the Simpson Desert is a very popular winter expedition. And it makes sense. You get to experience all the rugged and awe-inspiring nature of Australia, along with seemingly endless kilometres of red sand.
Then there's also the beauty of watching the sun rise and then set, leaving a purple-blue moment of twilight in its wake. While it may be a desert, this part of South Australia lends for a lot of beauty to shine through. Just don't forget to have some good winter clothes with you for when the sun goes down.
What Australian destinations do you love visiting in winter? Be sure to share them with us in the comments below.
* Image source: Tourism Tasmania
---