New warehouse shelves aim to improve warehouse footprint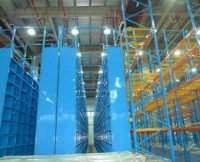 As any warehouse operator will know, space is a precious commodity. The more space you have the more items and produce you can stock.
When dealing with several customers and clients that regularly need items stored and shipped, storage space becomes an imperative asset. The less you store, the less business you will earn.
A new range of high-rise shelving designed by workplace ergonomics company Actisafe aim to address the issue warehouse space and the footprint shelving often takes up. With a focus on creating a cost effective, high-rised shelving solution, it offers warehouses the opportunity to store more while taking up less floor space. Of course, the extra height does mean warehouse height will need to be taken into consideration, but most warehouses usually do have space to spare in that respect.
For urban environments where rental costs are often far greater than those in rural settings, the ability to better utilise the warehouse space that's there make the decision to rent far easier. With more product over space, the profits for warehouses have the potential of increasing, which effectively makes rent costs less problematic.
Actisafe's new high-rise shelving is comprised of heavy-duty steel panels and framework construction. Colours can be customised, and the rigid and damage-resistant design allows these shelves to withstand a certain degree of impact from items such as forklifts, pallet trucks and more.
If you're interested in learning more about Actisafe's high-rise shelving, check out their website for more information.
---