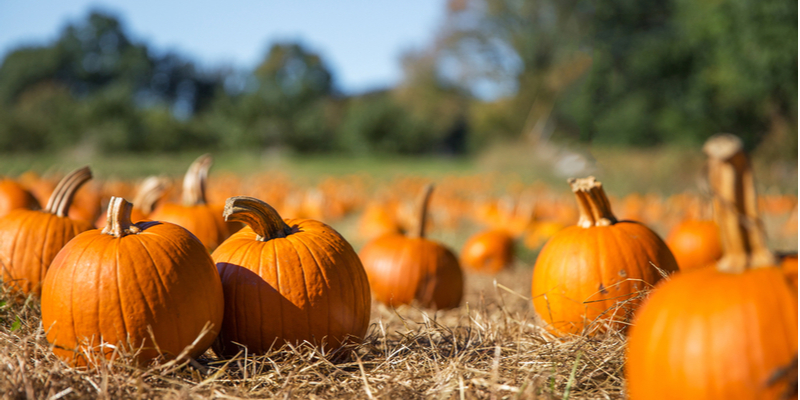 November Produce Spotlight: Pumpkins
If someone said the word "pumpkin" right now, what would you say? Perhaps Halloween might pop into your mind? A Sunday roast with vegetables?
In this blog, we'll be shining a light on this vegetable, what they're good for, and how you can get enough in your diet.
What's in a pumpkin?
Pumpkins are part of the Cucurbita family, which also includes zucchini, squash and cucumbers. Most importantly, pumpkins are a hearty, delicious and versatile vegetable that can be used to make anything from soups, to dessert, to a range of different cuisines – whatever pumpkin touches seem to turn to gold (or should we say… orange!).
Where should I store my pumpkins?
Keep your pumpkins in a cool, dry and in a well-ventilated spot in your kitchen. Having your heat on too high will cause your pumpkins to age and rot relatively quickly. 
How are pumpkins good for your health?

High Fibre

Pumpkin seeds contain up to 1.7g of fibre, and mashed pumpkin has up to 3g of fibre per cup. Eating pumpkin increases satiation and helps you feel fuller longer, by slowing down digestion and regulating blood sugar levels.
Increased fibre intake can also help protect you from heart disease, research shows. In fact, one study of over 67,000 thousand women over a 10-year span, demonstrates that a diet high in fibre intake reduces the risk of heart disease.
They Help You Sleep
Pumpkin is rich in tryptophan, an amino acid which gets converted to serotonin. Serotonin is a "feel-good" neurotransmitter that helps you calm down, unwind and doze off to sleep.
Boosts Muscle Function
Pumpkin seeds are a strong source of amino acids and muscle-relaxing magnesium for the body. Bonus pumpkin benefit: This filling squash could also help you lose weight.

There are even more benefits one can find from Pumpkins, but these are just a few of these! Got any other benefits you'd like to share? Comment them down below.
---