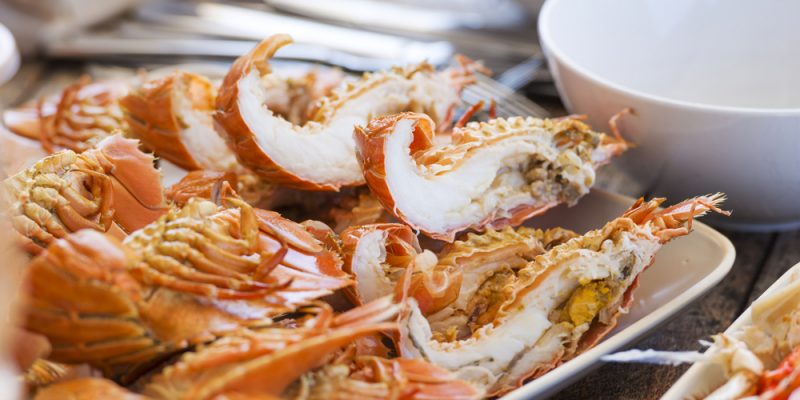 Spotlight on Seafood this Christmas (2018)
Since Christmas is just around the corner, let's shine a spotlight on everyone's favourite seafood!
What does a Christmas feast look like to you? For many Australians, it's not the usual ham or turkey. A Christmas seafood feast is now becoming the preferred way to enjoy this special day with family and friends.
Spotlight on Seafood this Christmas
Enjoy your Christmas feast with these fresh seafood dishes:
Cooked prawns – an Australian Christmas usually means prawns – and a lot of them! Tiger and king prawns are in season and always popular. Try them with a simple squeeze of lemon, or some fresh herbs like coriander, basil, or mint. They're great for barbecuing or even throwing into a fresh summer salad.
Smoked salmon – a platter of smoked salmon is a favourite for Christmas breakfasts. To get that Aussie taste, you can have a cream cheese dip, dill or lemon on the side.
Moreton Bay Bugs – always a popular and delicious seafood addition at Christmas time. If you can't take bugs, opt for the smaller version – yabbies.
Grilled squid – a popular pre-dinner appetiser in summer is chargrilled squid. Just marinate this fat-free seafood with salt and pepper and pair it with a glass of wine.
Barramundi with homemade macadamia pesto – Barramundi is tasty Aussie fish and is an all-time favourite, not just during Christmas. Pair it with homemade macadamia pesto and a bed of rocket and it's a sure winner!
Top Health Benefits of Seafoods
Low fat – this is good news for those who are trying to maintain a healthy weight.
Low cholesterol – cholesterol is an important part of every living thing. Normal levels in the body are healthy, but it may get tipped over the edge if we consume too much saturated fat. Seafoods are rich in healthy fats called unsaturated fats which combat the effects of saturated fat.
High in protein – protein is essential to the body as it's involved in muscle development. The more protein we have, the higher our metabolism is.
Rich in nutrients – seafoods contain plenty of iodine, zinc, and potassium. They are also rich in amino acids and complete B-vitamins.
Rich in Omega 3 and Omega 6 – these healthy fats are necessary for heart and blood vessel health.
Why Australians Love Seafood!
While many celebrate Christmas in a winter wonderland, Christmas in Australia comes at the start of the summer holidays. An Australian Christmas tradition is to go camping – not your typical Christmas.
With the warmer weather, Christmas is the perfect time to enjoy many seafood options! You'll want to eat something cool, in a casual and relaxed setting and a seafood feast is perfect for this.
It's also a festive season because the harvest is at its best during this time of the year. Prawns and lobsters are especially abundant from December to mid-February. With this, it's easy to enjoy fresh and locally caught seafood, not to mention they can be less costly than other times of the year.
Looking for refrigerated transport around Queensland and Northern New South Wales? You can book with us today.
---