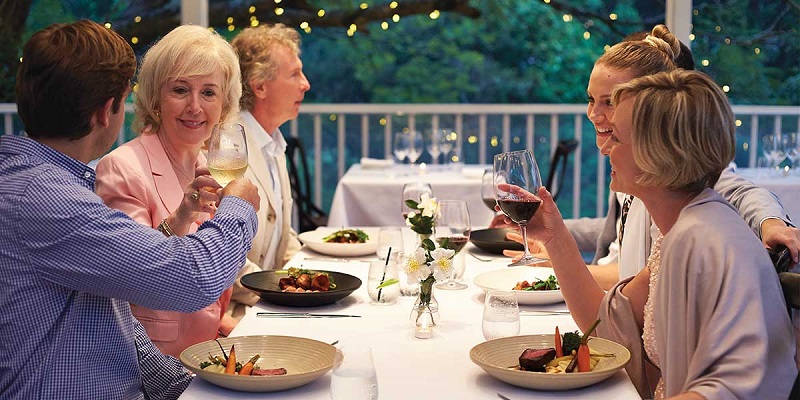 Queensland restaurants you must try off the beaten track
As a logistics and road freight company operating throughout Queensland and Northern New South Wales, we've visited businesses all over the state including anything from retail supermarkets to remote produce growers, in this post, we wanted to share with you some amazing hidden (not so well-known) Queensland restaurants you must try off the beaten track.
Driving up north from Brisbane, you might come across this boutique homestead in the gorgeous Sunshine Coast Hinterland. Known for its modern French menu developed by Head chef, Cameron Matthews, it's definitely a place not to miss on your road trip. But be aware, it's the type of place you have to book months in advance, so make sure it not that spontaneous of a road trip.
Go here: 68 Balmoral Rd, Montville QLD 4560, Australia
This small restaurant in the middle of the Sunshine Coast might not be what you expect to be known as Best New Restaurant 2016 as it's not part of the Maroochydore, Mooloolaba, Noosa restaurant scene, but that's exactly what it it. The little, out-of-the-way place is a pleasant surprise, offering a relaxed atmosphere, a little "old fashioned" hospitality, and did we mention, stellar food?
Go here: 66 Jessica Boulevard, Minyama, QLD 4575
As soon as you arrive at Spirit House you are transported to a whole new atmosphere. Set in the lush Sunshine Coast hinterland, the restaurant has its own rainforest and lake, where statues of elephants and the Buddha keep watch. Asian-Australian fusion cuisine is on the menu, from a teapot of coconut soup with chili oil infused smoked salmon as an entree? To most substaintial dishes like whole baby snapper baked with tamarind and chilli sauce.
Go here: 20 Ninderry Rd, Yandina, Qld 4561
Having won the Queensland Good Food Guide's People Choice award for the second year in a row (in 2016), this regional restaurant is obviously a crowd pleaser. Their use of fresh and local produce (and giving the growers the kudos they deserve) sets them apart from your average restaurant. Open for breakfast and lunch, every dish has a story here.
Go here: 80 Bourbong Street, Bundaberg QLD 4670
Living in Queensland, we're treated to the great sub-tropical weather and warm summers, so when you're planning your next holiday you don't need to leave the state instead go on a roadtrip and discover some of the hidden gems our state has to offer. One of which, of course is the Great Barrier Reef. There aren't that many places to choose from however, when you head north, that capture the magic of the tropics and the reef – but Nu Nu is the answers to this conundrum. Setting the dining experience with an outdoor area hanging over the ocean, this is regional trendsetter is certainly a must stop for the foodie in you! The food is designed to complement that characteristics that made North QLD truly a paradise. Their meal presentations and food is bright, colourful and light.
Go here: 1 Veivers Rd, Palm Cove QLD 4879
If you're looking for authentic Queensland, the town of of Normanton should be at the top of your list to visit! Literally a purple pub, this quasi-restaurant serves all your Aussie favourites (at a very reasonable price) and an assortment of chilly, refreshing beer. While you're in the area, make a side trip to Karumba (about a half hour north of Normanton) which sits right on the ocean is the only seaside settlement in the Gulf accessible by 2wd. It's famous for its prawn and fishing industry, and while we can't recommend a must-try resto to go to, there is sure to be a fish and chipper with the freshest of the fresh seafood on offer.
Go here: Cnr Landsborough and Brown Street, Normanton QLD 4890
---